Movie slot machines are very popular and draw many fans in the casinos. There are even lines of players who want to try their chance. The Hollywood factor which appeals to the masses is one of the reasons for this, but there are also other elements like crystal clear sound, authentic videos, and huge jackpots, which also need to be taken into account.
The Perfect Movie Slot Machines for You
Wondering where to play Movie-themed slots? Here are our top choices
USA

UK

Europe

Canada

Australia

New Zealand
| Casino | Movie Slots | Bonus | Rating | Link |
| --- | --- | --- | --- | --- |
| Sloto Cash | Yes | $7777 | | Play Now |
| Uptown Aces | Yes | $8888 | | Play Now |
| Red Stag Casino | Yes | $2500 | | Play Now |
| Casino | Movie Slots | Bonus | Rating | Link |
| --- | --- | --- | --- | --- |
| Bet365 Casino | Yes | £200 | | Play Now |
| Royal Panda | Yes | £100 | | Play Now |
| Betfair Casino | Yes | £100 | | Play Now |
| Casino | Movie Slots | Bonus | Rating | Link |
| --- | --- | --- | --- | --- |
| Bet365 Casino | Yes | €100 | | Play Now |
| LeoVegas | Yes | €3000 | | Play Now |
| 10Bet Casino | Yes | €200 | | Play Now |
| Casino | Movie Slots | Bonus | Rating | Link |
| --- | --- | --- | --- | --- |
| Jackpot City Casino | Yes | $1600 | | Play Now |
| Spin Palace | Yes | $1000 | | Play Now |
| Ruby Fortune | Yes | $750 | | Play Now |
| Casino | Movie Slots | Bonus | Rating | Link |
| --- | --- | --- | --- | --- |
| Jackpot City Casino | Yes | $1600 | | Play Now |
| Ruby Fortune | Yes | $750 | | Play Now |
| Spin Palace | Yes | $1000 | | Play Now |
| Casino | Movie Slots | Bonus | Rating | Link |
| --- | --- | --- | --- | --- |
| Jackpot City Casino | Yes | $1600 | | Play Now |
| Spin Palace | Yes | $1000 | | Play Now |
| Ruby Fortune | Yes | $750 | | Play Now |
You can find the movie slot machines which are based on films in the online casinos as well, although they are not as sophisticated as the ones in the gaming clubs in Las Vegas. In this guide, we will discuss some of the movie themed slots you can try out. We are not giving away any secrets to beating slots, but this page will give movie fans some great choices when they start planning their next Las Vegas trip. Here are the movie slots you should be looking for.
Grease Movie Slot Machines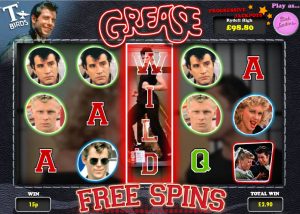 This land-based casino slot is a developed by Bally Technologies and is based on the hit musical film with Olivia Newton-John and John Travolta. You can play this game for a penny, but you can win 40 million credits. You can wager a maximum of 300 credits on this 5-reel,25-payline game.
There are also multiple bonus features, and the Bally site listed the game as the most popular on their site. You are able to play two games at once, and the slot is packed with soundtracks and hit scenes from the movie.
Star Wars Trilogy
This slot consists of three base games which correspond to the original movie trilogy: Star Wars, The Empire Strikes Back, and Return of the Jedi. The minimum wager here is 30 credits, and you make it activate each of the games, and if you want to try all the gaming options available, you will have to pay 90 credits per spin. There are also numerous bonuses during the game like the Rapid Reload feature or the Ewok Adventure Bonus. You can also participate in the three battle bonus rounds which are some of the most lethal showdowns in the Star Wars universe.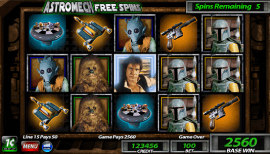 First of these is the Ballye of Yavin Bonus, where you need to get into an X-wing fighter and fly through narrow corridors in the Death Star. Battle of Hoth is the next battle bonus round, where you will be driving in an AT-AT on Hoth's surface and blast away the shield generator of the rebels.
The third bonus battle round is the Emperor's Final Battle Bonus; here you need to choose between Darth Vader and Luke Skywalker. During the battle, you earn bonus credits, and you will become even richer if the character of your choice manages to win the battle.
Indiana Jones
This movie slot machines game is manufactured by IGT in not one, but three different versions. None of them is named after the film, but they include familiar names from the popular series like the Well of Souls and the Cross of Colorado. We will look into each game in more details below.
The Indiana Jones – Cross of Colorado
This is a five reel and 25 pay line video slot machine which is multilevel progressive. In the base version of the game, you will find stacked wilds, a shared bonus which allows many players to compete for free spins and progressive levels.
Indiana Jones – Treasure of the Incas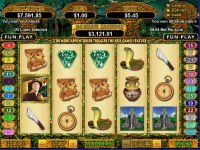 This is another 5-reel, 25-payline slot with so many ways to win, in fact, 243 of them. There is either 250 coin maximum for penny denominations or 100-coin maximum bet for nickel denominations, depending on the gaming jurisdiction.
Fans of the film series will be happy to see the wild and scatter symbols, as well as the authentic clips from the films. There are ten free spins and 1 to 99 bonus multiplier for stacked wilds. Multiple players can compete for free spins and progressive jackpots with the unique shared group bonus.
Indiana Jones – Well of Souls
Obviously, the name of this game comes from the location filled with snakes in Raiders of the Lost Ark, and you can win a treasure just as the Ark of the Covenant. Just like the previous games, we saw it is a 5 reel, 25 pay line game with a group bonus play. There are also clips from the films, fantastic graphics, stacked wild and more. Entering the free spins bonus round, you can choose an on-screen icon, which will determine if you win a fixed prize or a progressive jackpot. You will be eligible for the Mega Jackpots if you gather the correct award symbols on the upper pay line.
The Dark Knight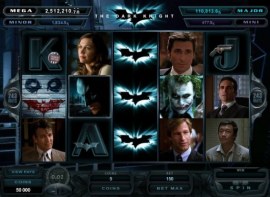 This is a massive movie slot machines game, which is a great centerpiece for any casino floor. It is an IGT creation which wow's players ever since the movie was released in 2008. The slot has the multiplayer option which allows many people to participate in the same time, and what is more, observers can watch the action on a huge screen located above the machines. The Joker is the game fires a rocket launcher, and you will be able to see many more clips from the movie while playing. If Batman turns up, this results in multiplied additional credits.
One of the favorites is the Sleight of Hand Bonus. A player must turn over a series of playing cards by passing their hand over the screen. If you flip over the right cards, you will win awesome prizes. The Battle for Gotham community promotion is most likely the largest event in the game. If you would like to get the opportunity to win the progressive jackpot take part in the car chase between the Joker and Batman, alongside other excited players. Just choose if you will be Batman or the Joker and win credits based on their success in the chase.
Conclusion
The movie industry invests billions of dollars each year in creating great movies for us to watch. The same goes for online and land-based casinos. Since both rely on the visual entertainment, it is normal that they would combine to make movie slot machines for all the fans.
If you are tired of the ordinary slot machines with stars and bars on the reels, definitely try the online movie slots. They offer an experience which is both exciting and familiar. And who knows after enjoying some of your favorite movie moments with great audio and video your happy end may be walking away with a treasure in your pocket.
Other Themes
Not a big movie fan? No problem, choose one of the themes below.
Choose a Slots Theme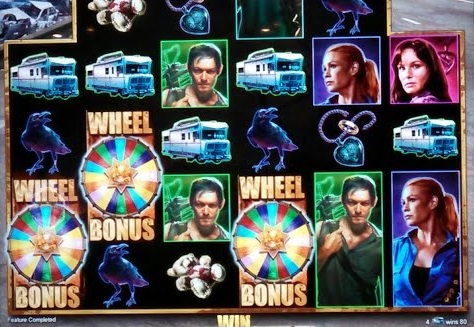 About Addiction
Manipulating Slot Machine Preference in Gamblers (Bookmakers use Contextual Control)
How Casinos Enable Gambling Addicts (Slots Develop an Unbreakable Hold)