Welcome to this Coral Casino Review – the place to be if you are willing to get a brief and objective overview of Coral Casino! Take a couple of minutes to read it from the beginning to the end, and you will not regret it! We have included all you need to know and keep in mind regarding game options, software, platform, user experience, promotions and so much more.
Editor's Rating
Overall: 3.0
USA

UK

Europe

Canada

Australia

New Zealand
For those of you who are not that familiar with Coral Casino, it will be worth mentioning that it is considered to be the premier brand of Gala Coral Group. Having in mind that they are also the owners of two more world top brands (Gala and Ladbrokes), it is not a coincidence that the experience provided by the casino is of extraordinary quality. It was precisely the importance that Coral places on quality, that has helped it become the third largest bookmaker in the United Kingdom and in the same time have turned the online casino into a hit.
What makes Coral different from the many competitors you can come across, has to do with the incredible expertise in the sector that is associated with it. Not only is Coral extremely successful when it comes to its land-based casino, but its online version is recognized for being an accomplished foray into that particular offshoot of the industry.
Software and Platform
As far as the gaming software is concerned, we need to admit that Coral has placed a vital importance on it. While the Coral Live Casino is managed by Eurolive, it is Playtech that has provided the software behind the casino itself. Taking into consideration that both Playtech and Eurolive are leading companies in the field of video-streamed live dealer games and slick 3D graphic slots, there is no doubt that high quality is ensured. Thanks to their smooth streaming package, players can benefit from quickly loadable games and vivid sound.
Apart from game options provided by leaders like Playtech, as well as Microgaming, when you play at this website, you will be able also to try out exciting games released by new companies such as Odobo.
You can sign up in a glimpse of an eye, and as a result of having access to the incredible in-browser play, you are also able to find exactly what you are looking for in no time.
You can use both a PC and a Mac computer to play at the browser based casino. The only thing you need to do is select the preferred game option to play, after which you will see a gaming window opening as a way to transfer you from the lobby to the game. Having this in mind, it will also be necessary for you to adjust any pop-up blockers enabled in your browser.
PC users can also benefit from the option to download a desktop casino. If you ask yourself why it is worth to consider this option, let us remind you that this way you will be able to log-on without navigating to the full site. This is so because players are free to switch platforms easily by keeping the same log-in details.
Mobile Application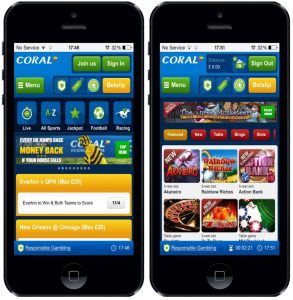 If you prefer to play on your phone, you will be glad to learn that there is also a remarkable mobile version of Coral Casino. Even though the list of currently available games includes only 14 slots options, when you use the mobile version, you still have the opportunity to enjoy a qualitative experience by making use of some of the table games and sports betting options.
In the same time, you can benefit from a wide range of mobile applications, which include casino apps for iPhone, Blackberry, and Android users, as well as a tailor-made iPad app. Furthermore, it is good to know that there are a couple of separate standalone iOS apps that are also accessible via the same account and relate to the Live Casino and exclusive table games (the app is called "Spin").
What is more, we need to recognize the incredible Coral Radio application for iOS and Android for enabling players to be consistently familiar with recent and relevant sports scores and analysis. Last, but not least, it is extremely convenient to be able to switch between gaming and sports betting without having to transfer balances. This is possible thanks to the full integration of the Coral Casino app wallet into the main application.
Video About Coral Casino Site
Game Variety
One of the most important aspects related to online casinos has to do with the game options included in their portfolio. After all, users join to play, right? In the case of Coral Casino players can benefit from a wide variety of titles, some of which more traditional whereas others cannot be played anywhere else. To be more specific, let us share that there are not only almost 600 options, but they can also be easily accessed thanks to the fact that they are organized under helpful tabs.
As we said, apart from classic games, you can come across some unique slots, as well as live dealer options. Do not miss the chance to have a look at the slots tab where you can come across games based on amazing pop culture icons, as well as original options like Rainbow Riches or Thai Flower slots.
When it comes to the live-dealer game options, they include roulette (American Roulette, Roulette Pro and a Marvel-themed version), blackjack, and baccarat tables. While it is not uncommon to be able to play blackjack, poker or roulette, the fact that Coral Casino also offers themed scratch cards, Mahjong, betting arcade hybrids (like Penalty Shoot Out), and unique titles such as Red Dog and Stravaganza, definitely adds significant diversity to its portfolio. The excitement revolves around the game quality and variety which is one of the main factors we looked into while writing our Review.
Bonuses And Promotions
Coral Casino places much importance on providing both newcomers and advanced users with the opportunity to benefit from attractive bonuses and promotions. Therefore, it is not surprising that there is a special tab at the top of the page where all the latest promos are presented. As far as the Welcome Bonus is concerned, we need to admit that it is quite generous. On the one hand, it is determined by the size of your initial deposit. On the contrary, there is also a system of 'Comp Points' you get added to your account with each £10, euro or dollars stake.
In addition to the Welcome Bonus, we encourage you to have a look at the multi-tier hierarchies of loyalty offers. The more Comp Points you get, the more attractive mode your account will go to (Bronze, Silver, Gold and eventually Platinum). In this way, you will be able to benefit from reward incentives based on your gaming preferences.
Last, but not least, Coral Casino provides on-going bonuses and promotions throughout the year, because of which we encourage you to check the promotions page on a regular basis. We are aware how important the bonuses are for you, so we went that extra mile to make sure that everything is perfect for our review.
Payment Options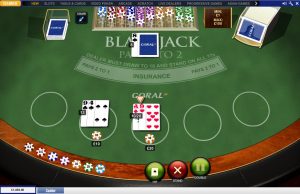 Another important factor that plays a significant role in the process of providing users with a qualitative playing experience has to do with banking and more precisely with the payment options for making deposits and withdrawals. In the case of Coral Casino, deposits can easily be made via cards like Visa, Maestro, and Mastercard, or by using eWallets such as PayPal, Skrill, and Neteller. In addition to this, Coral accepts vouchers like Ukash and Paysafe.
No matter which option you are interested in, keep in mind that the minimum amount of money you will need to deposit amounts to £5. The same refers to withdrawing winnings. The only difference is that you are not allowed to use vouchers, but in the same time, you can withdraw via a bank transfer.
All in all, we can conclude that there is a broad range of payment methods available. In the same time, the process of transferring money is considered to be quite simple thanks to the intuitive and easy-to-use panel.
Customer Support and Security
While security and banking are quite important, whoever has faced any technical challenges knows how relevant it also is to have access to a superb customer support team. When you play at Coral Casino, you will be able to reach for help in various ways. There is a free phone line you can use daily between 7 am and 12 am. The same hours apply to the live on-site chat assistant, too. Before you go for live assistance, it may be helpful for you to browse the Privacy Policy or Terms & Conditions pages of Coral Casino. There you can find the majority of FAQ answered.
Having in mind that playing at online casinos requires dealing with financial transactions it is good to know that they are properly secured at Coral Casino. In addition to this, fair gaming and quality of the players' experience are ensured by the Gibraltar Gambling Commissioner that is responsible for monitoring Coral.
And what is more, if you happen to be extremely security conscious, note that there is even a page dedicated to showing the precise meaning of each code named cookie, as well as the way it interacts with your browser. This provides you with the opportunity to track the exact movement of your online information. The security is most likely the most important factor, that is why we took it so seriously.
Conclusion About Coral Casino
After having covered the most significant aspects related to any online casino, it is time to wrap up. Based on what we already said, we can conclude that Coral Casino is one of the top quality casinos you can play at online. Not only is it a product of one of the most well-respected and well-known brands in the world, but every single element, including the software, the platform, the game options, the promotions and the security and support provided, is worth recognition.
We hope that reading this Coral review has enabled you to get all your burning questions answered, and we wish you all the best on your playing journey.
Read More Here
British Casino Group Gala Snaps up Coral (Gala is Buying up Coral Eurobet for £2.18bn)
Gala Spent 3m GBP to make Jamba Pay-to-Play (Developing Newly Purchased Online Games)